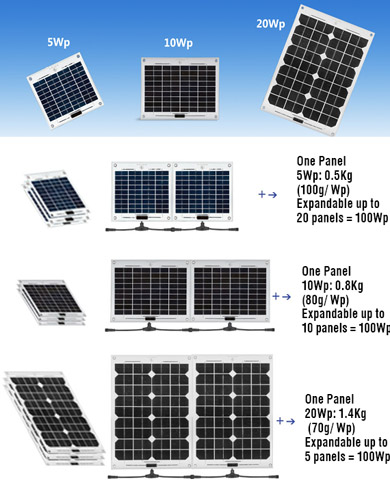 bySol-Lite Lightweight and Long Life Sol-ChargerTM Pack is a Portable Solar Powered Battery Charger for Lead-Acid & other Batteries. It is designed to perform in any outdoor environment and especially for any remote power needs. The Sol-ChargerTM Pack is available in rated power output from 5, 10 to 20Wp, which can charge 12V lead-acid batteries, or operate DC loads with small to moderate energy requirements directly.
It is maintenance free and easy to install, which can be easily mounted on flat surfaces by bolts or double stick tape, and can be connected into panel strings with Nylon Cord for easy folding and temporary fastening.
The Sol-ChargerTM pack is developed and manufactured under high quality standards. And it is super green with using the natural charging power of the sun.
Features of Sol-ChargerTM Packs
5 to 20Wp Sol-ChargerTM Packs with controller for charging local 12V lead-acid batteries and others.
Multiple same sized Sol-ChargerTM Panels can be string-connected (up to max. 100Wp) to provide larger power with series and/or parallel interconnections (See Table 1).
Made with high efficiency Silicon Crystal Solar Cells, which can provide high power density output on smaller footprint panel.
Ultra-thin and light weight: it is only approx 5mm thick, and the no glass design makes it much lower weight and more portable than large scale technology solar panels.
Robust structure: these solar panels are made on thin, rigid and rugged aluminum-plastic sandwich (APS) substrates.
The special sun and weather-proof encapsulation materials are proven for over 20 years good resilience to UV and wide range weather exposure. They allow maximum light transmission to the crystalline cells for high efficiency operation, which together increases the panel lifetime to 10-15+ years.
Equipped with a separate solar charge controller, which can offer complete electronic protection, such as overcharge & discharge protection, short circuit protection, and reversed polarity connection protection etc.
Each panel has 4 corner grommet holes for easy mounting by bolts or suction cups or Nylon cord or wires. The sol-chargers can also be connected by Nylon Cord for easy folding into packs for transport and reposition in daylight.
Daily Charge 12V lead-acid batteries (or others) with solar panel and strings sized for use as needed.
Same Sized Sol-ChargerTM Packs can be connected in series and/or parallel to meet larger power and/or voltage needs.
Sol-ChargerTM Packs work with conventional lead-acid batteries, sealed "maintainer free" batteries, Value Regulated Lead-Acid (VRLA), Absorbed Glass Mat (AGM) and Gel Cell, as well as others.
Maintenance free, except for surface cleaning when needed, and easy to use and suitable for either portable use or permanent mounting.
Ideal for battery operated gadgets, in- & out-door lighting, emergency power supply, camping and remote power applications, etc.

We Can Guarantee Our Proven Quality Products Only If They Are Marked With Our Trade Mark Logo Like The Water Mark Logo On A Dollar Bill.
This Product is Guaranteed by Three (3) Years Limited Warranty.
(See Full Warranty Statement for More Details)