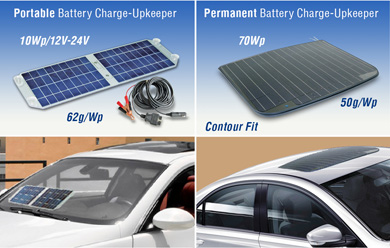 The Sol-ChargerTM Car/ Truck Battery Charge-Upkeeper is a light weight solar powered Battery Charge System for vehicles, and is perfect for maintaining and extending the charge of battery system on all vehicles with 'ALWAYS ON' Electronic - Electric requirements.
The Portable Battery Charge-Upkeeper is designed to Charge the Vehicle Batteries even During Long-Time Parking for weeks and months. It can be mounted Inside the Vehicle Windshield by suction cups for temporary needs.
The Permanent Battery Charge-Upkeeper is custom designed to Contour Fit Onto Any Car Roof or Sunroof, and designed to provide a 24/7 Charge Power Supply for any Electric or Carbon vehicles. The Roof Battery Charge-Upkeeper is developed and manufactured under high quality standards for industrial use. And it is super green with using the natural charging power of the sun.
Features of Sol-ChargerTM Car/ Truck Battery Charge-Upkeeper
10W

Portable Battery Charge-Upkeeper

with controller for trickle charging 12V or 24V vehicle batteries.
The

Permanent Battery Charge-Upkeeper

powers the electronics and ventilation systems on all vehicles - Electric or Carbon.
Made with High Efficiency Silicon Crystal Solar Cells, which provide High Power Density Output on Smaller Footprint Panels.
The special sun and weather-proof encapsulation materials (without glass) are proven for good resilience to UV exposure, which increases the panel lifetime to 10-15+ years.
Robust structure: the

Portable Battery Charge-Upkeeper

is made with aluminum-plastic sandwich (APS) substrate and all Nylon screws and bolts for suction cups.
The

Portable Battery Charge-Upkeeper

is equipped with an Integrated Charge Controller for preventing over-charging and also for battery voltage testing: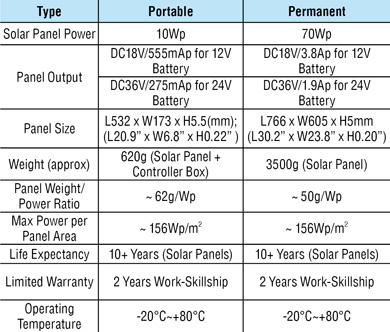 The

Portable Battery Charge-Upkeeper

keeps the vehicle batteries near full during long-time parking and keeps its electronics powered, which allows an easy engine start up after leaving your vehicles for a long period or prevents electronic systems damage.
The extra solar power from the

Permanent Battery Charge-Upkeeper

can also power the integrated ventilation system to provide a flow of air to cool the interior temperature, and the lower temperature enables the air conditioning to work more effectively and thus reduce fuel consumption.
Extend the battery life by maintaining the battery's state of recharge constantly, and protect the environment by reducing the number of prematurely discarded batteries.
Even if the weather is overcast or dull, the Battery Charge-Upkeeper is sized to still provide a continued trickle charge to maintain the battery charge requirements.
Maintenance free, easy to use and great for either portable or permanent use.
Portable theft safe through inside vehicle windshield installation.
Quick electric connection to vehicles with various types of cable sets as needed for

Portable Battery Charge-Upkeeper

.
We Can Guarantee Our Proven Quality Products Only If They Are Marked With Our Trade Mark Logo Like The Water Mark Logo On A Dollar Bill.
This Product is Guaranteed by Two (2) Years Limited Warranty.
(See Full Warranty Statement for More Details)